"I can see that a small investment of money can make a big difference to the health of women and children. Doing anything early in a child's life, better still in pregnancy, has a significant impact on their long-term health." - Rose McGready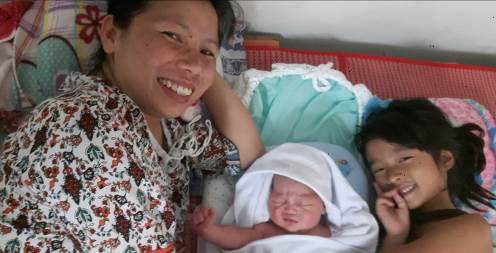 The important work performed by Rose and her team to improve the health and wellbeing of underprivileged and marginalised families on the Thai-Myanmar border is in constant need of financial support as very little funding can be acquired locally.
Your support can have an enormous impact, particularly because the foundation is operated by volunteers with minimal administrative costs.
How you can help
All donations to the Dr Rose McGready Foundation make a huge difference to the work we can do and, in fact, a little can go a long way in these vulnerable communities. Here are some examples of how your contribution could help support our life-saving work:
One-off or monthly payments:
| Amount | Example |
| --- | --- |
| $6 | Test a pregnant woman for hepatitis B, the first step to preventing mother to child transmission of hepatitis B |
| $10 | Transport assistance to receive implant (voluntary uptake and range of contraceptive choices) |
| $50 | Feed a family of four (two adults, two children) for one month due to food insecurity |
| $85-200 | Admission to neonatal care unit for premature babies for one month |
| $250 | A monthly donation would support one midwife to join the 24-hour delivery room service |
| $400 | Pays for one local community member to do the Advanced Life Support in Obstetrics (ALSO) course |
| $1000 | Phototherapy unit (high rates - needed for one in five newborns) |
| $1200 | Emergency caesarean section (for women with no other means) |
| $1400 | Neonatal phototherapy unit |
| $3000 | A robust ultrasound that can withstand 4WD to reach remote communities |
| $50,000 | Trains 24 midwives for 18-month period |
FAQs
Is my donation tax deductible?
The Dr Rose McGready Foundation Limited has tax-deductible gift recipient status from the Australian Tax Office. Donations of $2 and over are tax deductible.
Why should I donate?
Support for vulnerable populations can have an enormous impact. Your donation to the Dr Rose McGready Foundation will help provide safety, food, access to health and education for these individuals and families.
What will happen to my donation?
All donations are used to support the work of Rose McGready and her team on the Thai-Myanmar border. Your gift will be managed by the Board of Dr Rose McGready Foundation and in accordance with the foundation's constitution. Funds transferred to Thailand will be administered by Borderland Health Foundation, a registered charity in Thailand.
Board members work voluntarily for Dr Rose McGready Foundation and do not take payment or receive any allowance.
Will my money be used for research?
Donations primarily support humanitarian healthcare work and training of local health care workers. Training and project work may form an incidental part of research projects, however research is funded independently and separately from Dr Rose McGready Foundation.
Can I ask that my donation be used for a specific purpose?
The Dr Rose McGready Foundation will consider donations for a specific purpose If the request fits with the objectives of the foundation.