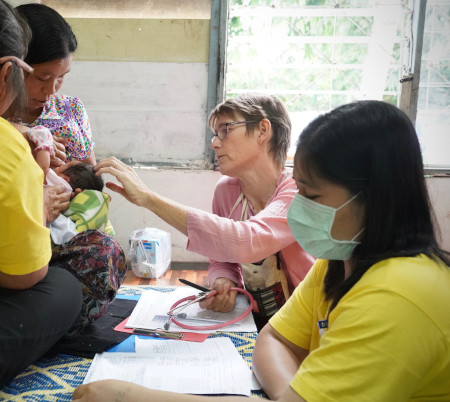 Rose and her team provide health care for underprivileged and marginalised people on the border of Tak province in Thailand and the Karen State in Eastern Myanmar.
This area is witness to one of the world's most protracted refugee crises, with Karen and other Burmese people fleeing a repressive military dictatorship in Myanmar, and now a country-wide civil war following the military coup in February 2021.
The sheer volume of people escaping into Thailand has made them vulnerable to trafficking and exploitation. Employment is precarious for undocumented migrants, with wages below the legal minimum, making it difficult to meet basic living needs and impossible to pay for health care. Yet there are also hundreds of thousands of internally displaced in Myanmar, where health care has consistently ranked poorly by international standards.
Myanmar remains dangerous, with the military's scorched earth tactics creating fear and uncertainty. These include air raids, burning villages, planting land mines, torturing civilians including the sexual abuse of women, using villagers including children as slave labour, and minesweepers. Schools and clinics are military targets because of the role doctors, nurses and teachers have played in resisting the coup. The constant displacement of local communities due to this violence has also increased health risks from infectious diseases and malnutrition.
Until 1996, Rose's team was focused on providing care to those in refugee camps along the border before expanding support to displaced people outside the camps. Displaced people have difficulty accessing public health care in Thailand because it is prohibitively expensive and there are significant language barriers.
In Myanmar, access to public health care is limited due to a lack of resources. Even if a clinic is open, there are often no diagnostic tests or medicine to diagnose or treat illness. Hospitalisation in Myanmar frequently results in catastrophic costs for families.
Rose works with the Borderland Health Foundation (BHF), a registered charity in Thailand that grew out of humanitarian support started by the Shoklo Malaria Research Unit (SMRU), of which Rose is now Deputy Director and Head of Maternal and Child Health.
The offices of both organisations are in Mae Sot, Thailand, but the clinics and health posts they support are scattered along the border and inside Myanmar (see map).